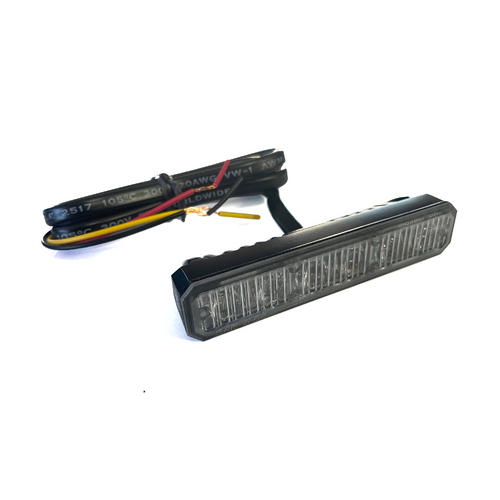 Or 4 payments of $58.65 receive your order now.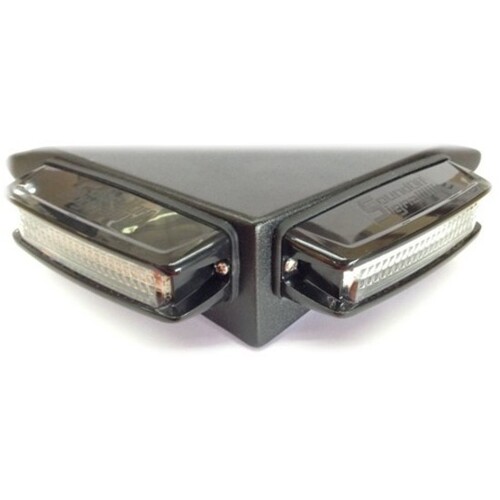 Or 4 payments of $233.54 receive your order now.
Buy LED Bonnet Lights
OzLED is your leading stockist of LED emergency lights for emergency vehicles. With a growing range of LED bonnet lights from leading manufacturers, shop online and in-store with confidence!
Not sure where to start? Browse our product range above to order your perimeter lights today or learn more by contacting the OzLED bonnet lights team.
High Quality Bonnet Lights from Leading Manufacturers
BASE6 Ghost Light – Coming in at a great low price, the Base6 Ghost Light is a multi-mount, split red/blue bonnet light in SAE Class 1 Black Housing featuring 23 Flash Patterns. The edge mounting utilises a unique u-bracket to mount the small inconspicuous lights to the hood or trunk edge of any type of vehicle. With optics designed for maximum, extreme angle output, order online today at OzLED!
nForce Bonnet Module – The Mercedes Benz Sprinter Bonnet Mount module features 2 nForce 12 LED Red/Blue lights utilising unique technology that allows a single light to flash up to 3 colours across the full surface of the light. This offers the user a single light for warning as well as scene lighting by utilising the steady burn white feature. Coming in with a 5-year warranty, order online today!
MS6 Red/Blue Bonnet Mount – With legendary reliability, the Surface Mount MS6 Red/Blue Bonnet Mount offers multi-voltage output (12 to 24 Vdc), 19 flash patterns, high intensity LED modules, reverse polarity protection and is rated for up to 100,000 hours of operation. Easy to install with various mounting brackets, MS6 bonnet lights are the perfect partner to emergency vehicles of all shapes and sizes.
Order your Bonnet LED Lights from OzLED now!
Browse our entire range of bonnet lights online for great prices and fast delivery Australia wide. Can't find what you're looking for or need further assistance? Simply contact the friendly OzLED team on 07 3205 4355 or contact us online for more information. Our LED lighting online team are always happy to assist.
LOOKING TO BONNET LIGHTS FROM THE RESTRICTED RANGE?
Restricted colour outdoor bonnet LED lights and products include but are not limited to the following examples:
Red flashing lights.

Blue flashing lights.

Any other item that would be reasonably seen as illegal for an average road user to mount on their vehicle.

• Any other item or product deemed to be restricted by any OzLED representative for any reason.
Please see our restricted item policy when looking to purchase restricted emergency lights and follow the restricted item order process contained within. If you are not sure and would like to ask any questions, please get in touch with us online, e-mail us at sales@ozled.com.au or call us on (07) 3205 4355.
Frequently Asked Questions
Do LED bonnet lights and under bonnet lights come with warranty?
For warranty information, please consult the individual product page as each warranty can vary from product to product and manufacturer to manufacturer. If in doubt, please get in touch with our friendly team who will be able to assist!
Are bonnet LED lights waterproof and vibration proof?
While bonnet LED lights are typically designed to be water and vibration proof, technical specifications will vary from product to product. Please consult the product page of the bonnet lights you are interested in purchasing for more information.
Do bonnet LED Lights lose their intensity over time?
LED's lights are well known to be a long-lasting solution when it comes to emergency vehicle lighting. While operating conditions and outside factors including temperature, humidity and heat load can cause LEDs to lose some of their brightness over time, many of the LED bonnet lights at OzLED are rated for up to 100,000 hours of operation, making them an ideal solution for emergency vehicles of all types.
Do LED Bonnet Lights get hot?
While LED lights do generate a small amount of heat, the heat generated from LED lights is significantly less than traditional incandescent lighting.
DIDN'T FIND WHAT YOU'RE LOOKING FOR?