100 Series Multivolt Trailer Tail Light
Perfect for trailer applications where both 12v and 24v vehicles may need to be used to tow.
Product Video
Features / Specifications
Premium Trailer Lamp
Diamond Pattern Lens
Low Profile
ADR approved
IP67 100% Water proof
Voltage Range 12V or 12-24V
Lifetime Warranty
100mm x 100mm x 22mm
Fitting Instructions
Surface mount onto flat surface vertically with Indicator at top using bolts in back of lamp, run wire and plug through 10mm hole in fixing surface. Please refer to ADR 13/00 for mounting instructions.
Technical Drawings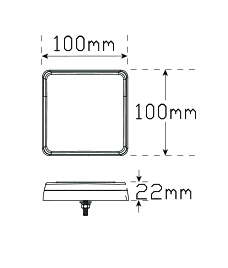 Specifications
Part No.
100ARM
12-24 Volt Single Blister
.
LED Qty
14
Cable
40cm with Plug
Draw
Stop
Tail
Ind
@13.8V
0.13A
0.04A
0.12A
@28V
0.12A
0.06A
0.07A
Approvals
Function
Category
CRN
ADR
Stop/Tail
49/00
37986
ADR
Indicator
6/00 2a
37985
ADR
Reflector
47/00
38102
Downloads
Reviews