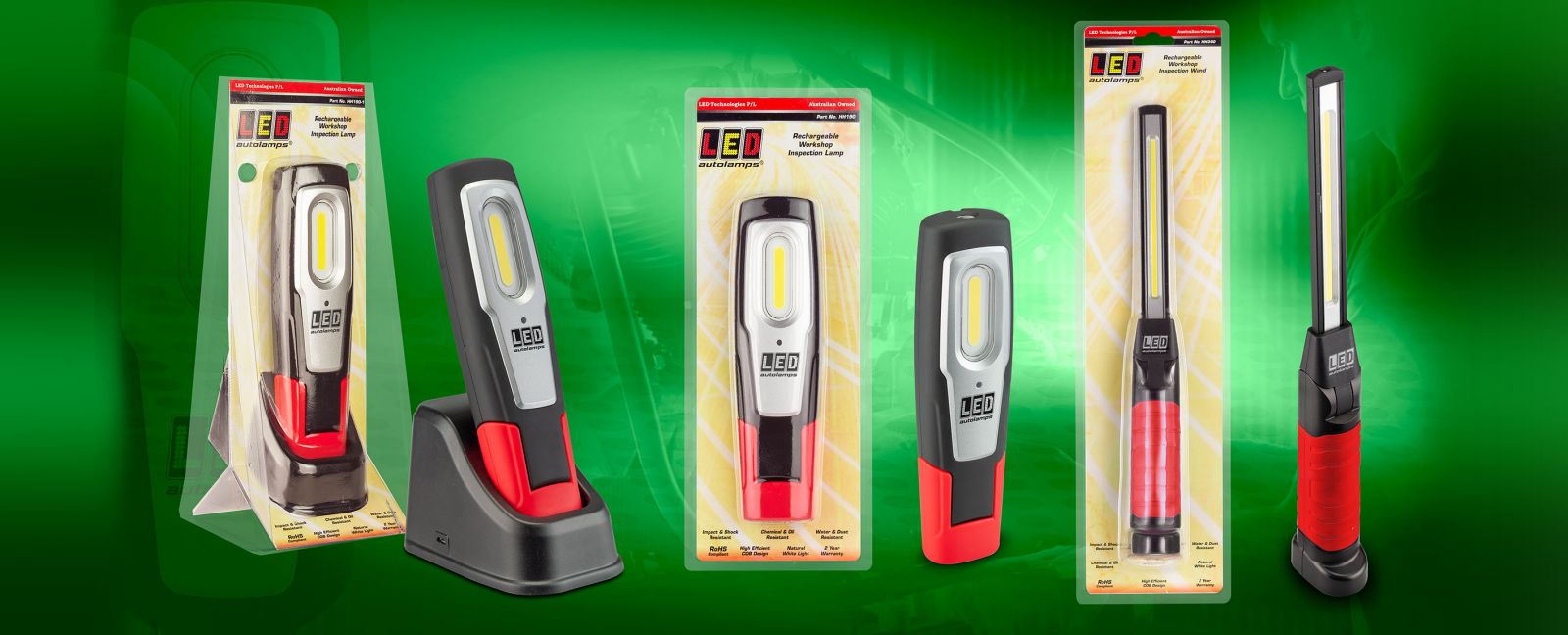 Workshop Tough, Rechargeable Inspection Lamps
LED Autolamps, Designers and Manufacturers of many high-quality LED Automotive lighting have released their new range of heavy-duty rechargeable inspection lamps.
There have been two different versions made available in the series. Firstly; is the small and compact HH190, that is perfect for general workshop inspection lighting. By offering a super strong rear magnet and magnetic base including a 180-degree 7 position adjustable body, makes them handy for difficult dark work environments. They also have hidden away a swivel/pivot hook for hanging the light if necessary. Secondly is the longer HH340 wand style. This also offers a super strong magnetic base with a 120-degree 5 position adjustable head that is thin enough to reach into tight spaces where the others can't. The flexibility built into these new lamps ensures your hands are on the task with the light exactly where you need it.
Workshop environments can test the integrity of any product but LED Autolamps inspection lamps have been Manufactured tough. A Polycarbonate lens sits atop the main light and impact resistant ABS is used for the housing and Base, making them water, Oil and chemical resistant. The HH340 handle also boasts a rubber wrapped non-slip grip for extra security when reaching for those hard to get at places.
The high-powered main lights feature the latest in COB (Chip on Board) LED technology. High powered SMD LEDs are used for the convenient inbuilt top light, converting the inspection lamp into a torch all with a push of a button. Highly efficient, COB LED clusters to deliver a clean white light of 6500K with a CRI of 80 which is important for colour definition when inspecting vehicle wiring and other mechanical componentry. The compact HH190 has an impressive 350 lumen main flood light and 80 lumens for the top torchlight. The HH340 wand with dual high/low function outputting an incredible 600 lumen for high, with 300 Lumen for low and finishing with 120 lumens for the top torch.
Charging is quick and effective with only 3-3.5 hours from empty by using encased 3.7 Volt 2200maH Li-on Batteries which ensure a long reliable charge of up to 6-8 hours for main lights and 7-8 hours for torch lights depending on which model. Both come standard with a micro USB to wall charger and the HH190-1 also includes a Recharging docking station perfect for storage/charging convenience. You can rest assured that these lamps are up to the task and will serve you all day.
The quality of build, light output and flexibility in design not only makes them the optimal workshop companion but they are also ideal for break down or recovery, agricultural, outdoor, marine/boating or off road 4x4 adventure. Energy saving and manufactured to RoHs with no hazardous materials The HH190 and HH340 are supplied in a secure retail hang blister pack and the HH190-1 with docking station is neatly packaged in Hang and stand for merchandiser base or counter display.
They are supported by an LED Autolamp 2 Year peace of mind warranty and are available to order now
For sales contact the OzLED team today
sales@ozled.com.au
07 3205 4355
See the original blog post here: https://www.ledautolamps.com/news-media/press-release/workshop-tough-rechargeable-inspection-lamps