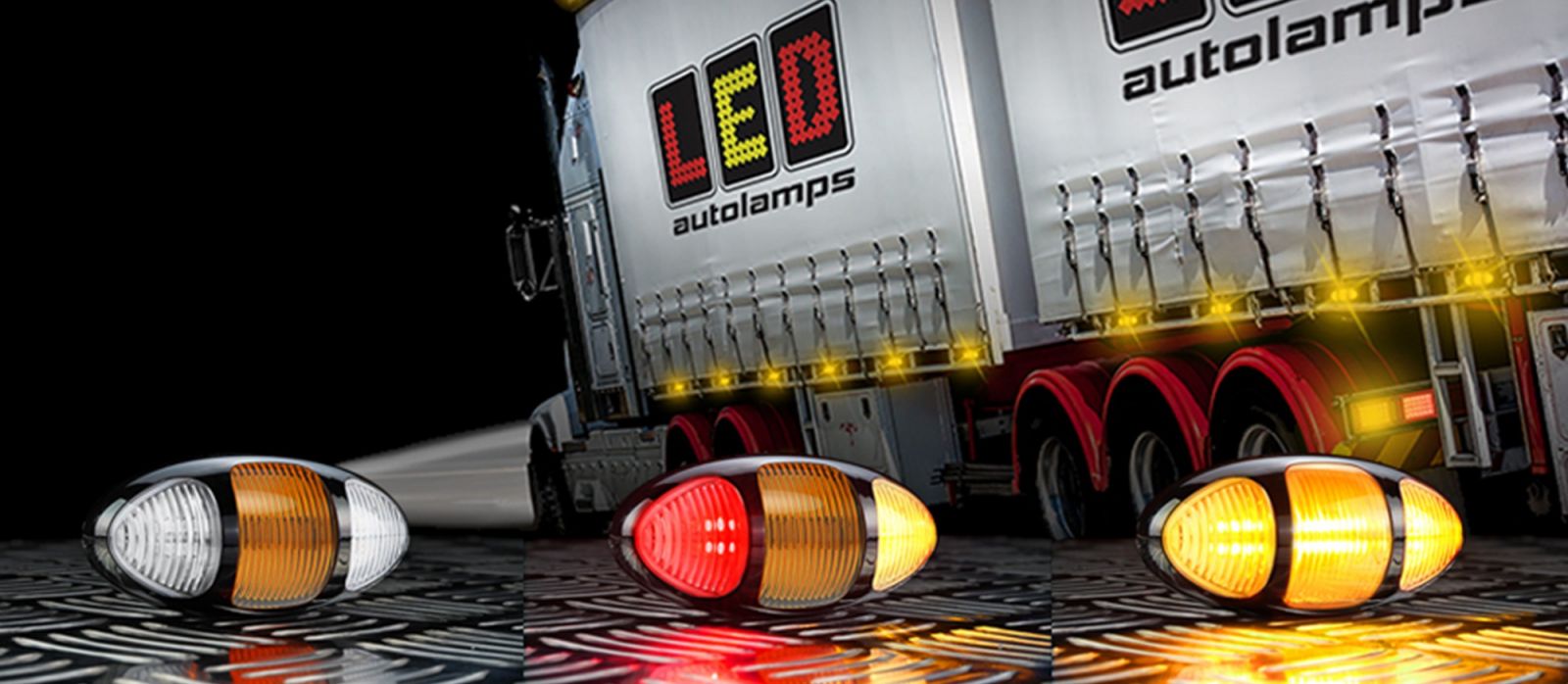 A cutting-edge new design from LED Autolamps will see all the markers down the side of large trailers act as side direction indicators.
LED Autolamps says the extra volume of light provided by this design will give other vehicles plenty of warning about the intention of larger vehicles as they look to merge into traffic. The lamp has a standard function Red/ Amber side marker with an overriding function of Side direction Indicator. So when the indicator is active, the marker is disabled, said LED.
The new system utilises LED Autolamps' All-New 97 series side marker/indicator combination lamp, which is Australian road approved for Category five side direction indicator as well as an amber/red side marker. The lamps are large trailer plugin harness compatible, enabling them to be easily Daisy-chained down the length of the vehicle or incorporated into existing LED Autolamps harness setup. It is available standard 3-Core with bare wires or 3-Core with plug for the harness system and is also compatible with LEDs standard markers. This adaptability allows you to add any combination of marker lamps or marker/indicator lamps. LED says you can also add a licence plate lamp to the 3-core harness system.
This innovative new product features a surface mounted base that enables both the lens and bezel to clip neatly into place and conveniently conceals the mounting hardware with no visible screws.
To finish LED Autolamps has also made available a front and rear end outline marker version that not only functions as a road approved marker but also acts like an indicator that is supplementary to the existing indicator functions.

"This new concept in truck and trailer lighting design will make travel on our roads safer. The original all in one Side Marker/Indicator lamp will revolutionise road safety, help save lives. By incorporating this into your trailer lighting will not only give you the confidence when indicating to merge but also make you the first with this technology in Australia!" LED Autolamps Managing Director, Tony Ottobre, said.
"Statistics show 54 per cent of road crash injuries and 10 per cent of fatalities happen in same direction incidents or from a sideswipe between articulated trucks and light vehicles. Medium to heavy vehicles statistics also show a higher proportion, with 33 per cent of them fatal. Further, approximately 60 per cent of persons killed in heavy truck crashes are light vehicle occupants".
"This new system involves an enhanced lens design with powerful LEDs to operate in a dual function purpose with Amber/Red side markers and category 5/6 side direction indicators. "Currently, there is only need for one category five or six side direction indicator to be used on each side of a semi-trailer 7.5m or longer. However, we believe that by having effectively the entire trailer indicating the direction of the vehicle it will have a significant effect on the reduction of articulated and heavy truck road fatalities across Australia."
LED Autolamps offer peace of mind 5-year warranty, supplied in a single retail blister pack or in bulk for original equipment manufacturers they are guaranteed to give you years of trouble-free service. Available to order now.
*statistical data sourced by LED Autolamps from www.bitre.gov.au 2016 publications