Today we thought we would cover the Base6 K85 LED Work lights available online and instore.
But first, lets look at what LED work lights provide and what benefits they can have for you. Clean white light, cooler temperatures and dramatically reduced power consumption. But what sets Base6 K85 Sniper Work Lights apart from the rest? – Well, 5 Watt Genuine CREE LEDs have been selected for the Sniper due to their quality and superior light output. Polycarbonate lenses are up to 10 times more impact-resistant than plastic or glass lenses. The heavy duty aluminium housings are powder coated for durability, they are shockproof and vibration resistant and built tough for Australian outback climate and conditions. Rated IP68 as "dust tight" and protected against complete, continuous submersion in water.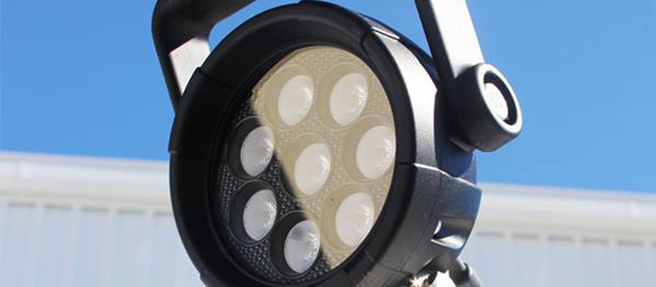 Time after time, the Base6 K85 series work lights have proven themselves in the field. From emergency services and local councils to commercial and private owners the K85 series work lights have tackled each and every task they have been set in front of.
Boasting 8x 5watt genuine CREE chip LED's that produce over 3200 Lumens the K85's are not here to disappoint. The light output from the K85 gives a clean and wide light up to 60m. The K85 series is also available in a number of variants as pictured below. First, you are given the choice of flood or spot lenses, then allowing the option of including a handle and switch or not.

Deutsch Connectors are used to stop water ingress to the connections.
Pulse width modulation (PWM) is a trait of a quality work light. The circuitry switches the LED's on and off at a rate much higher than the human eye can observe. This cycling ensures each chip is working to it's optimum. The benefit is the Light output is the highest possible, whilst running cooler and using less power. The Sniper K8 LED Work Light is available in Spot or Flood Pattern Base 6 have built a reputation for producing high quality LED products that will stand the test of time. The use of quality materials, excellent R & D, attention to detail and quality assurance ensure your investment will provide years of trouble-free use. We back this with a 5 year warranty for your peace of mind. The range includes Lightbars, Driving Lights, Emergency products and much more.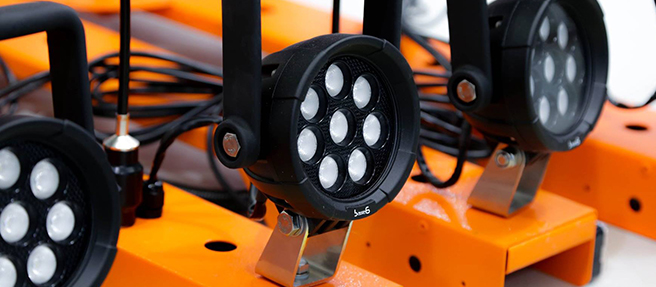 To upgrade to the K85 series work light today, view the listing here - K85 Series Work Lights