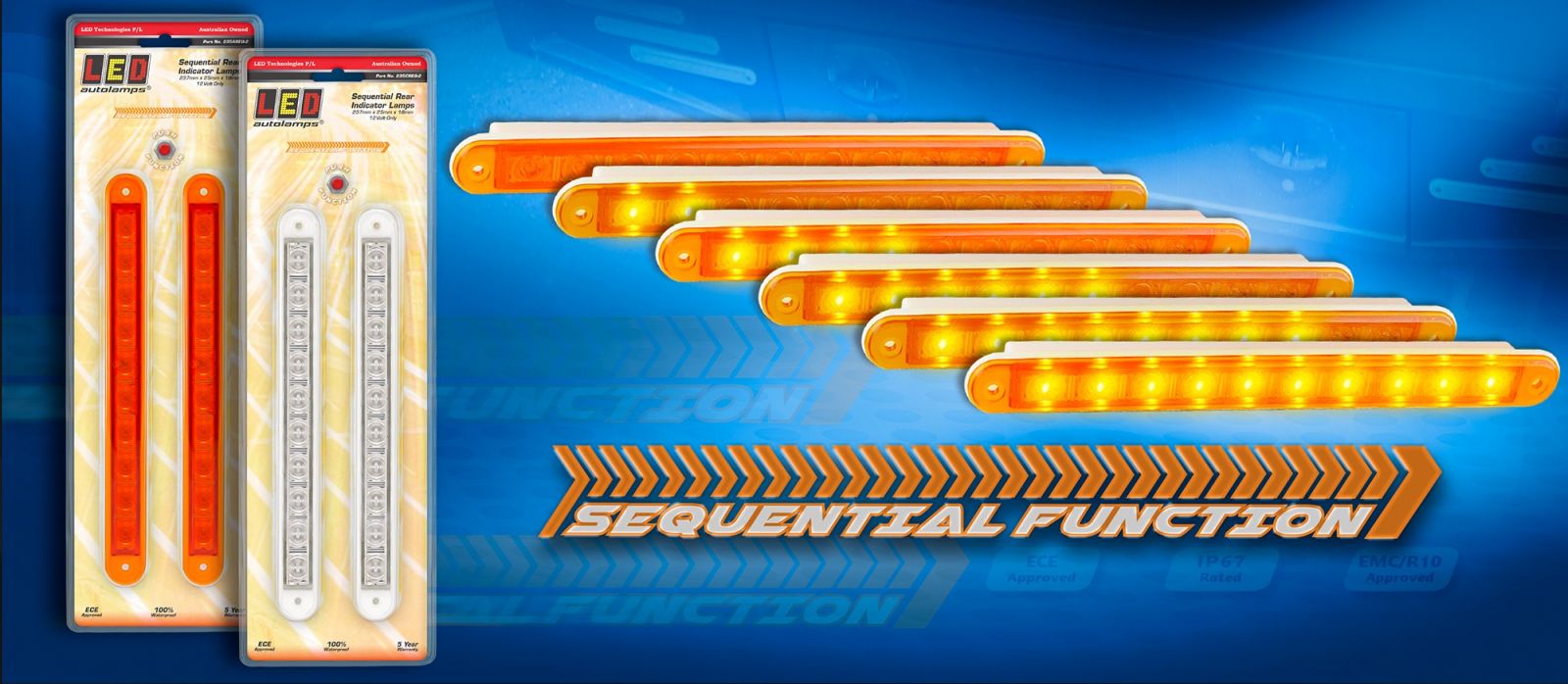 Generally reserved for high-end European vehicles, you now can add that same classy look to your caravan, vehicle or trailer. Introducing the 235 series sequential rear indicators, with specially designed integrated circuitry included and dynamically lit with the latest in LED lighting technology.
LED Autolamps have kept the overall look of the latest 235 series sequential in line with their same size and style recessed lamp range. This will give you a seamless integration into any new or existing vehicle or trailer lighting designs already using the 235 series lamps.
These lamps also feature a super low profile with a compact size of 237mm x 25mm x 3mm as well as recessed mounting, great flexibility when fitting too small tight spaces. Australian road compliance with ECE approval by using enhanced lens optics coupled with high powered SMD LEDs deliver an incredibly bright light output. As well as exceeding the required standards, they will not only make you stand out from the rest but also ensure your vehicle/trailer is road legal and compliant in all states of Australia.
Included as standard are 10 high brightness SMD LEDs that power through a Fresnel style lens Sequencing in a 1.2-second interval, ensuring clear direction indication. The low operational current draw as well as single 12 voltage makes them perfect for a wide variety of applications and battery system requirements.

Hardened acrylic plastics, known for strength durability and UV resistance, make up the bulk of the lamp. A specially designed resin that is resistant to cracking seals the integrated circuitry against water and dust ingress to strict IP67 testing standards. Vibration and impact resistance with no moving parts ensures this product is made fit for purpose and up to any challenge in Australia's harshest road environments.
LED Autolamps offer its new sequential indicator range in a clear or coloured lens option for your choice in design applications. They are also available in a twin retail hang blister pack with a handy function simulator button included. This will give your customer a sample of the dynamic sequential Indication as well as incredible light output. An excellent sales feature perfect for the aftermarket parts resellers.
LED Autolamps take full control of the design, development and manufacture of the new 235 series sequential lamps so they can confidently offer a 5-year warranty. A testament to LEDs commitment in providing their customers with the best possible quality at the best price.
Get yours today: https://www.ozled.com.au/indicator-strip-lamp-sequential-indicators