BR122 Series Glow Tail Lamps
ROADVISION's BR122 Series round LED signal lamps are a versatile stand-alone or combination lamp solution, featuring Glow Tech tail lights they have both
a contemporary yet classic look! Roadvision's super bright LED signal lamps deliver the durability of maintenance-free LED technology and greater visibility,
providing increased safety with minimum current draw. Couple this with unbreakable PMMA lenses and an extremely tough housing manufactured from
high impact ABS, the BR122 Series will survive the toughest environments. They are dust, waterproof and totally maintenance-free, with a life span rated at
100,000 hours. With the ROADVISION BR122 Series, it's FIT and FORGET.
FEATURES
Multi-volt 10-30V DC input & low current draw
Glow Tech tail light
100,000 hour LED life span with solid state technology
Maintenance free
High impact ABS housing and PMMA lens
Water and dust proof
Pre-wired with 300mm of sheathed tinned copper cable
Simple surface mount design
ADR/ECE approved for all functions
| | | | | | |
| --- | --- | --- | --- | --- | --- |
| | | | | | |
| 10-30 VOLT | PMMA LENS | HIGH IMPACT | ADR APPROVED | WATERPROOF | 5 YEAR WARRANTY |
DIMENSIONS A&B 122 x 38mm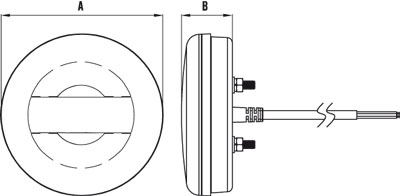 Specifications
SKU
BR122ARR
BR122RR
BR122RW
BR122AR
Input Voltage
10-30 VDC
10-30 VDC
10-30 VDC
10-30 VDC

Number of LEDS

Indicator - 8 LEDs
Stop - 8 LEDs
Tail - 20 LEDs
Stop - 16 LEDs
Tail - 20 LEDs
Reverse - 16 LEDs
Tail - 20 LEDs
Indicator - 16 LEDs
Tail - 20 LEDs
Current Draw @ 13.8V
Ind - 0.1A, S/T - 0.2/0.15A
Stop/Tail - 0.2/0.15A
Rev - 0.2A, Tail - 0.15A
Ind - 0.08A, Tail - 0.15A
Lens Construction
PMMA
PMMA
PMMA
PMMA
Housing Construction
High Impact ABS
High Impact ABS
High Impact ABS
High Impact ABS
Mounting Hole Centres
45mm Stud Centres
45mm Stud Centres
45mm Stud CentresCentres
45mm Stud Centres
Cable Length
250mm Sheathed
250mm Sheathed
250mm Sheathed
250mm Sheathed

Wiring

Earth - White
Stop - Red
Tail - Brown
Indicator - Yellow
Earth - White
Stop - Red
Tail - Brown
Earth - White
Tail - Brown
Reverse - Yellow
Earth - White
Tail - Brown
Indicator - Yellow
Reviews